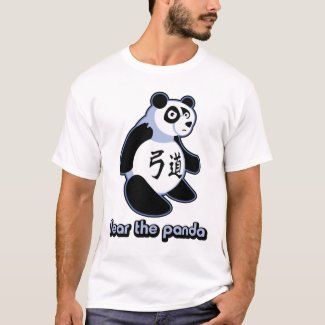 You can now buy a "Fear The Panda" t-shirt from Zazzle.com!
Who wouldn't want the Zenarchery panda on their chest, big as life? Losers, that's who! Cool people want to buy the shirt! Buy it! Give me a few dollars! I need money! It's awesome! It comes in like eight zillion colors and sizes! Hella buy it! Obama wants you to buy it! Buy it now! Please, for the love of God!
I chose Zazzle because their print process was highest rated in several reviews I looked up online. I'll be building a small store here for this and my other forthcoming products.
(Seriously, buy one. I need money. And it's a cool design, I think. If you'd like a customized version, contact me and I can design one for you.)